Add Value to Your Home with New Siding
Apr 26, 2016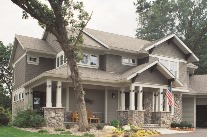 Are you considering putting your home on the market? Are you searching for ways to increase value without wasting precious time or spending too much money? Are you looking to improve the quality of your home without the intention to sell, but want to know that the upgrade you choose will raise your future sell price? Consider new siding with Tight Line Exteriors, the siding installation company of choice in Lawrenceville!
New Siding Improves Curb Appeal
The impression your home radiates from the curb has an immense bearing on its value. A buyer's first impression will always be what they see as they pull toward the lot, regardless of the beautiful fixtures you've installed or the large bedrooms you are offering. If you want to get a buyer inside of your home, the outside of your home has to speak of quality. The professionals at Tight Line Exteriors will improve the curb appeal of your home with siding installation in Lawrenceville and surrounding cities.
New Siding Increases Energy Efficiency
When new siding is installed, a new layer of insulation is put in place. Insulation keeps the temperature of your home from escaping through the outer walls while also keeping the heat or cool of the outdoors from reaching the inside. This inevitably brings down heating and air costs dramatically. With lower energy costs comes higher home value.
Siding Installation in Lawrenceville Is Faster and More Affordable Than Other Home Improvement Projects
Many homeowners consider installing an extra bathroom or remodeling a kitchen. While these projects may increase the value of your home, they will also cost you far more in labor and materials, which is calculated as two separate estimated costs, and will require more time for project completion. With siding installation, you receive one quote that includes labor and materials so you know what you will spend. Unlike other home improvement projects, most siding jobs can be completed in two weeks and financing is available for siding installation.
In conclusion, it's easy to see how new siding can improve not only the value, but the look, feel and quality of your home. Tight Line Exteriors has helped thousands of homeowners increase their home's value with new siding installation and we are ready to help you do the same! Tight Line Exteriors has partnered with James Hardy Siding and offers only the highest quality products to pair with the excellent customer satisfaction you are guaranteed to experience.
Reach out to Tight Line Exteriors, the company offering the finest siding installation in Lawrenceville, and let us help you add value to your home!