Our Concrete Floor Coatings Are Four Times Stronger Than Epoxy & Can Be Installed in Just One Day at Your Atlanta, GA, Home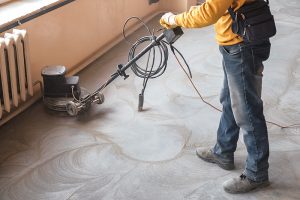 Tight Line Exteriors' one-day concrete floor coatings are designed to protect garage, basement, and patio floors and create a more usable space. We offer one of the fastest concrete floor coating installation times in the industry, and our factory-certified technicians can complete your project in as little as one day.
Why Choose Our Concrete Coatings?
Our concrete floor coatings are the best choice for Atlanta, Georgia, area homeowners because they are:
Convenient
Our chip flooring system can be installed in as little as one day and will be ready to use just hours after installation. Once installed, you'll be able to walk on your new flooring within four hours, place heavy objects on it within 12 hours, and drive over it within 24 hours.
Exceptionally Durable
Four times stronger than regular epoxy, our concrete floor coatings are the best choice for homeowners looking for maximum durability. Our chip system includes a polyurea basecoat and topcoat– a material that is much stronger and more flexible than epoxy. This makes our concrete coatings resistant to abrasions, chemicals, and UV damage. Plus, our concrete coatings are impervious to hot tire pick up, which is common with epoxy floor coatings. Once installed, you'll be able to enjoy your finished space in peace, knowing that wear and tear won't cause damage to your beautiful new floor.
Easy to Clean
You won't have to worry about regular cleaning once your concrete coating is installed, as our floor coating is exceptionally low-maintenance. Just a quick sweep and wipe down with a mild detergent is enough to keep your floor looking its best.
Have Your Concrete Floor Overhauled in Just One Day
Contact Tight Line Exteriors today to request a free estimate for your one-day concrete floor coating. We are proud to be a trusted resource among homeowners throughout the Atlanta, GA, area, and we would be happy to answer any questions you may have.