Protect Your Atlanta, GA, Home Against Water Damage by Having Seamless Aluminum Gutters Installed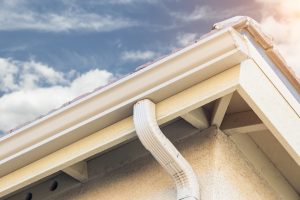 Gutters channel water away from your home and ward of damage to your siding, fascia, foundation, and landscape. Because water damage is one of the biggest threats to your home's structural integrity, a properly functioning gutter system is crucial.
If age and wear prevent your gutters from operating as they should, turn to Tight Line Exteriors to have them replaced. We're a top-rated exterior remodeling contractor that has been helping Atlanta homeowners update their properties since 2004 and are proud to be a trusted resource in the community.
Seamless Aluminum Gutters
Our seamless gutters are crafted from durable aluminum and are built to provide years of optimal performance. They are also custom-fashioned into one continuous piece, free from seams. This provides many benefits, including:
Better protection against clogs and leaks
A perfect fit for your home
Fewer maintenance requirements
An aesthetically pleasing appearance
Plus, our gutter systems are available in three different sizes and 21 beautiful colors, so you're sure to find a look you love.
Enjoy Even More Protection with Gutter Guards
Our seamless gutters provide the ultimate protection against clogs – we even back them with a lifetime no-clog guarantee. However, we also install top-quality gutter guards, which will prevent debris from falling into your gutters in the first place. With gutter protection in place, leaves, twigs, and pine needles will be kept at bay, leaving your gutters clear and allowing water to flow easily. This virtually eliminates the need for maintenance and means that you will never have to spend another afternoon wavering on a ladder while you dig wet leaves out of your gutters.
Get a Free Estimate
Contact Tight Line Exteriors today to learn more about our seamless aluminum gutter systems. We offer gutter installation services to homeowners throughout the Atlanta, Georgia, area, and would be happy to provide you with a free estimate.