No Mess, No Clogs – Guaranteed For Life!
Our seamless aluminum gutters protect your home from water damage with little to no maintenance!
Atlanta Gutters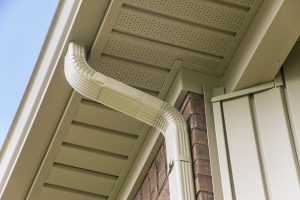 Whether you live in a cozy townhome or a suburban estate, most local homeowners can agree on one thing: gutters are not exactly their favorite part of the house. After all, most Atlanta gutters get clogged easily, requiring hours of standing on a ladder to pull out leaves, dirt, and other debris. If you'd rather not spend your weekends cleaning out wet gutter garbage, it's time to get in touch with Tight Line Exteriors! With one installation of our seamless aluminum Atlanta gutters, we can protect your greatest investment and save you time on tiresome manual labor.
The Superior Gutter Systems Atlanta Homeowners Rely On
Since 2004, Tight Line has brought our quality gutter replacements and installations to households across the Greater Atlanta community, including Marietta, Roswell, and Alpharetta. Unlike many gutter systems in Atlanta today, our innovative replacement gutters are designed to function effectively with little ongoing maintenance. Built to the highest quality standards, our aluminum gutter systems:
Protect Your House: By diverting water away from your walls and foundation, our gutter systems help prevent erosion, splash-back, and damage to your foundation, fascia, and siding.
Are Environmentally Friendly: With our gutter systems, Atlanta homeowners not only enjoy a more waterproof home—they can also easily collect and recycle rainwater for gardening, cleaning, or washing.
Boost Curb Appeal: You can choose from 21 colors and 3 different sizes and styles for a gutter replacement that complements your home exterior.
Come Guaranteed for Life: We're so confident in our gutter systems that we offer a lifetime no-clog guarantee. That's right—no more laboring on ladders or manually scooping out debris!
Sign Up for Your Free Gutter System Quote Today
At Tight Line Exteriors, we bring over 30 years of industry experience to serve as your trusted resource for replacement siding, gutter systems, and all kinds of exterior renovations. To learn more about our cost-effective yet high-quality products and services, call us today! You can also start with a free estimate for your new gutter system by filling out our easy online form now.