Love the Outdoors Again With a Screened-In Porch!
Enjoy a bug-free outdoor space with a stunning and affordable screened-in porch.
Atlanta Screen Porches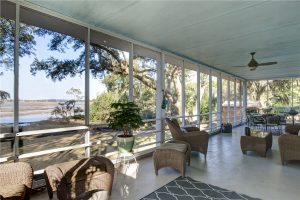 If you enjoy spending time outdoors but are often driven back inside by mosquitoes and other pests, a beautiful screen porch can help you learn to love the outdoors again. Since 2004, Tight Line Exteriors has provided residents of Greater Atlanta with quality home improvements, and our customer-first philosophy has earned us BBB accreditation and many glowing reviews! When you're ready to add the value and functionality that Atlanta screen porches provide, we are your trusted resource.
Stunning Screened-In Porches
Sometimes even a small, budget-friendly update can make a big difference in the functionality of your home. Such is the case with screened-in porches. Imagine having a bug-free place to enjoy the evening breeze while sipping on sweet tea—that is what a beautiful screen porch from Tight Line Exteriors provides! Whether your porch is small and cozy or a large space where you gather with family and friends, our professional team can transform it into a relaxing retreat.
At Tight Line Exteriors, we provide a superior exterior remodeling experience and offer many benefits to our customers including:
Durable Materials: We use high-quality materials that can withstand harsh weather and continue to provide maximum performance.
Expert Installation: Our highly trained, experienced team has the expertise needed to provide a flawless installation. Plus, we work efficiently, so you can start enjoying your screen porch sooner!
Affordable Pricing: We offer the best value for the cost of your project. With our upfront, all-inclusive pricing, you don't have to worry about hidden costs or an unpleasant surprise on the final invoice.
Flexible Financing: In addition to our cost-effective pricing, simple financing options make it even easier to afford our custom screened-in porches.
Get a Free Design Consultation for an Atlanta Screened-In Porch!
Contact us today and learn more about extending your living space with a quality screened-in porch from Tight Line Exteriors! Give us a call or fill out our online contact form to request your free, no-obligation estimate.