Enjoy the Breeze With Stylish Casement Windows
These windows complement any style of home and have all the energy-efficient features you want.
Atlanta Casement Windows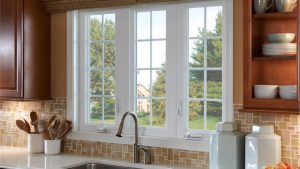 When considering replacement windows for your home, don't overlook the benefits of high-quality Atlanta casement windows! Though this style often adorns historic houses, these windows look just as great on modern structures, and Tight Line Exteriors carries a full line of replacement casement windows that can enhance the beauty of your home while also saving you money on costly heating and cooling.
Expertly Installed Replacement Casement Windows
Since 2004, Tight Line Exteriors has built a reputation as Greater Atlanta's most trusted choice for new window installations, and our casement windows are no exception. Unlike a sash window, which slides up and down, a casement window swings open from hinges along the right or left side. If you've never considered replacement casement windows before, you might once you learn about their many benefits, including:
Effortless Operation: Casement windows are easily opened with one hand, making them a great choice for a spot that is not easy to reach.
Enhanced Security: Because there is no way to turn the crank from the exterior of the home, these are one of most secure windows on the market.
Excellent Energy Efficiency: Replacement casement windows seal tighter than other types of windows. That translates to better energy efficiency and greater savings on your heating and cooling costs.
Better Circulation of Air: Sash windows only allow air to flow through one part of the window, but casement windows let air enter through their entire height, allowing for much better ventilation.
Of course, the best windows on the market are only as good as their installation—and we're the area's window installation experts! Don't fall for fly-by-night companies that promise windows for $200. You get what you pay for, and when it comes to replacement windows, you need quality! While other companies charge for every little feature, our windows come fully featured with prices that include:
Argon gas-filled spacers
Double glazing
Foam wrapping
Locks
Trim touch-ups
Intercept spacer systems
Energy Star ratings
ProSolar low-e glass panes
50-year prorated warranties on glass
And so much more!
Get a Free Quote for Atlanta Replacement Windows
Learn more about our casement windows and other quality replacement windows by getting in touch with us today! Give Tight Line Exteriors a call to speak to a member of our team, or simply fill out our online contact form to schedule your free, no-obligation estimate.