One-Day Garage Floor Systems for Lasting Value
Enjoy a safe, impact-resistant garage floor with the exclusive systems from Tight Line Coatings!
Atlanta Garage Floor Coatings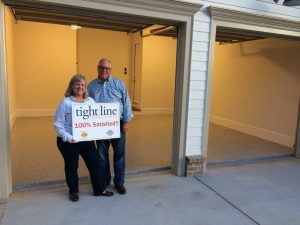 When was the last time you took a close look at your garage floor? Although concrete is durable, it isn't invincible, which means cracks and stains are likely to develop over time.
Allow your garage floor to add to the overall style of your space instead of detracting from it with Atlanta garage floor coatings from Tight Line Concrete Coatings. We offer a wide variety of colors, patterns, and features that will make it possible for you to look forward to spending time in the garage again.
Atlanta One-Day Garage Coatings
Garage coatings are a popular product for homeowners throughout Atlanta—and with good reason! Not only can they greatly enhance the look of your garage, but they also offer a wide variety of benefits that include:
Impact Resistance: Coated floors resist abrasions, chemicals, and sun damage. They won't fracture in extreme temperatures either!
Increased Safety: If you're worried about staying steady on your feet in the garage, choose a coating with a textured finish to prevent slips and falls.
Easy Cleaning: A professionally installed garage floor coating provides you with a uniform surface, which makes cleaning up spills extremely easy.
When you choose Tight Line Concrete Coatings, you'll get an additional benefit—a quick installation. We offer Atlanta one-day garage coatings to ensure that you get back to full use of your space as quickly as possible.
Schedule Your Atlanta Garage Coating Installation Today
Superior customer service is always our main goal, and that means making the installation process as easy and painless as possible. To get you started, the team at Tight Line Concrete Coatings will come out to your home for a free, no-obligation estimate to discuss the highly durable concrete coatings and services we offer. Take the first step towards a beautiful and functional garage today by giving us a call or filling out our simple online form!