The Look You Want, the Strength You Need
Choose innovative metal to extend the lifetime of your roof and protect your home in any weather.
Atlanta Metal Roofing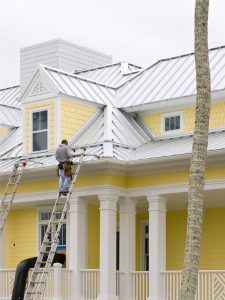 Homeowners often find themselves having to choose between high quality products and ones that fit within their budget. But for exceptionally durable roofing at competitive prices, consider Atlanta metal roofing from Tight Line Exteriors! Designed for long-term strength and tailor-made style, our metal roofs take your home protection system to the next level.
Why Choose Replacement Metal Roofs?
Compared to traditional materials like wood, stone, or asphalt, replacement metal roofs from Tight Line have a number of short- and long-term benefits, including:
A longer expected lifetime
High performance in all weather
Better rates of energy efficiency
Resistance to fire and heavy impacts
Customized shingle styles and colors
Count on Tight Line to Be Your Trusted Roofing Resource
Choosing the right roofing depends on a number of factors unique to you and your Atlanta home, including your home architecture, neighborhood, budget, and more. Although replacement metal roofs are a highly durable and customizable choice, they aren't right for everyone—and Tight Line's professional staff will work closely with you to make sure you get a roof that meets your specific needs. With over 30 years of experience in the construction industry, we have the knowledge base and specialized skill to be your trusted resource for the right roofs at the right price.
Request More Information and a Free Metal Roof Estimate Now
At Tight Line, we're more than just experts in Atlanta metal roofing—we're your go-to source for full-service roofing improvements! From downtown Atlanta to Marietta, Roswell, and Alpharetta, our highly skilled roofers can help with any project, including:
Roof Repairs
New and Replacement Shingles
And More!
Call Tight Line Exteriors today to learn more about our replacement metal roofs, or take just a minute to fill out our simple online form. We'll be in touch to schedule your free in-home replacement roofing estimate!