Protect the Gutters That Protect Your Home
Enjoy the ease of no-maintenance gutters with our quality, cost-effective gutter guard system.
Atlanta Gutter Guards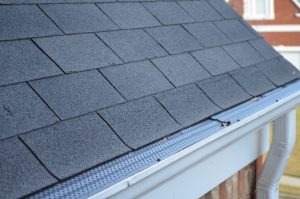 It's true that gutter guards are not the most glamorous of home improvements—but they are one of the most important. Many homeowners overlook the protection their gutters afford their home in terms of moisture control, foundation protection, erosion prevention, and much more. So protect the gutters that do so much to protect your home by adding high-quality Atlanta gutter guards from Tight Line Exteriors!
Since 2004, our locally owned, BBB-accredited business has worked to earn a reputation as Greater Atlanta's most trusted home improvement experts. Our outstanding service, superior workmanship, and cost-effective pricing makes us your trusted resource for Atlanta gutters, gutter guards, and other home updates!
Long-Lasting Replacement Gutter Guards
If you've ever spent a Saturday on a ladder trying to clear a clog in your gutters, you already know the value of a well-designed gutter guard system. Tight Line Exteriors installs the best replacement gutter guards on the market, so you're guaranteed superior performance that will last for years. Just a few major benefits of our gutter guards include:
Quality Construction: Made from solid aluminum, our gutter guards will not warp or rust.
Easy Maintenance: Self-cleaning ridges ensure that dry debris easily blows away.
Low Profile: Invisible from the ground, gutter guards will not change the aesthetic of your home's exterior.
Pest Resistance: The system completely encloses your gutter, so birds and squirrels cannot build their nests inside.
High Strength: Our guards attach to both the front and the back of the gutter, creating a stronger system that can stand up to even heavy ice.
Warranty Coverage: Gutter guards from Tight Line Exteriors come with an impressive 20-year manufacturer's warranty.
Protect Your Home With Our Durable Gutters and Gutter Guards
Learn more about the many features and benefits of adding gutter guards to your home in Marietta, Roswell, Alpharetta, and beyond! You can also talk with our team about replacement siding and other exterior home improvements. To get started today, give Tight Line Exteriors a call or fill out our online contact form to request a free, no-obligation estimate.