Keep Your Home Safe With Gutter Protection
Keep the siding, foundation, and landscape of your home intact with quality gutter protection.
Atlanta Gutter Protection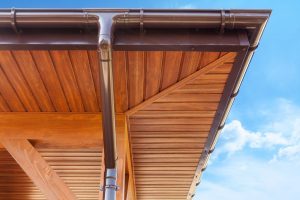 Your home's gutters are responsible for redirecting water away from your exterior and landscaping, and keeping them in top shape is a priority for homeowners throughout the Atlanta area. With superior Atlanta gutter protection systems from Tight Line Exteriors, you can ensure that your gutters remain functional and clog-free all year long.
Our premier remodeling company has over 30 years of construction experience, and we have seen first-hand the damage that can be caused to home foundations by water damage. This experience gives us the knowledge and skills needed to provide expert installation services for all of our quality, exterior products—and our gutter protection systems are no exception!
High-Quality Gutter Protection for Your Atlanta Home
With our in-depth understanding of gutter problems, the team at Tight Line Exteriors takes special care with our installation techniques so that we can guarantee a lifetime of home protection. Our gutter protection systems make any homeowner's life easier by reducing the need for constant repairs and maintenance, and installation of a gutter protection product provides the following benefits:
Clog-Free Gutters: Cleaning gutters is never a fun task, but a protection system will greatly reduce the need to clean leaves, dirt, and debris out from your home's gutters.
Preventing Ice Buildup: When a gutter clogs with debris, it becomes easier for ice dams to build up and redirect the water runoff, and gutter protection solves this problem.
Lowered Fire Risk: Dry leaves and twigs easily go up in flames, and gutters that are free from flammable debris enhance the fire safety of your property.
Cleaner Siding: By functioning properly, your gutters will prevent dirt and mildew from building up on your house's siding—saving you time in constant maintenance!
Contact Us for an Exact Quote for Our Atlanta Gutter Protection Systems
Whether you need replacement siding or want to protect your home with new gutter systems, Tight Line Exteriors offers a variety of products and services to improve your property's exterior. Call us today or fill out our online form to request your free quote, and one of our friendly installers will be happy to answer any questions you have about our services.