Best Siding Replacement in Atlanta
Dec 20, 2013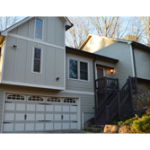 Siding is a very important part of the house because it will protect the interior design from all dangers like weather condition and foreign materials. Home siding is said to be the "skin" of a house. This is the main reason why every homeowner should make sure that the siding installed should be of high quality without compromising the beauty and cost. That is why Tight Line Exterior will do all these things for you.
Home siding replacement in Atlanta is an expensive project, so consider contracting with an experienced company like Tight Line Exteriors. Tight Line Exteriors provides homeowners return on investment (ROI) on all of their projects. They will ensure that the Fiber Cement Siding they installed will give the best ROI. For the 8th Year in a Row in Atlanta, a fiber cement reside project gives 25% better return than adding a bathroom and costs $61k less to complete.
Tight Line Exteriors also make sure that every project installed will save energy in the long run. Many homes built in Atlanta were insulated with the lowest minimum insulation standards so that they can save money during installation. But, this is not a good practice because it will not save energy for heating and cooling costs. For Tightline Exteriors, energy saving is a top priority but unfortunately, there are very few opportunities to increase the insulation of the exterior walls of a home. The product that Tight Line Exteriors will install gives a protective barrier from water and the elements while increasing the insulation value (R-Value) of the walls making sure that an ordinary residing job changes into an energy-saving improvement at a minimal increase in cost.
Tight Line Exteriors don't just help make the most of home sidings, they also make the most of the exterior design of the entire house. That is why they are offering a free consultation to their Exterior Designer, Ms. Franchesca, to help in choosing the best and most appealing siding colors and textures.
Don't be fooled by cheap but poor performing exterior siding products that other Atlanta siding contractors will offer. These mistakes have cost homeowners thousands of dollars to replace systems like wood fiber siding and foam stucco systems. With Tight Line Exteriors, all homeowners are ensured that researches will be made on your current exterior systems to assure the installation of best engineered systems on the market.