Tight Line Exteriors Offering Atlanta Window Replacement Sale
Aug 13, 2014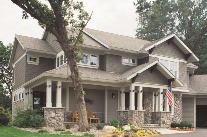 Tight Line Exteriors has been offering window replacement in Marietta and the surrounding Atlanta area for over a decade. Aside from replacement windows Atlanta, Tight Line Exteriors also offers siding replacement, gutters, roofing and replacement doors. Essentially, Tight Line Exteriors can handle all of your exterior needs.
As summer rolls to an end, Tight Line Exteriors is excited to launch a summer Atlanta window replacement special. Prepare for the winter by taking advantage of this huge savings on window replacement in your home.
Details on Replacement Windows Atlanta Sale
$50 off each window that is purchased from Tight Line Exteriors!
Think about saving $500 on 10 windows or $750 on 15 windows!
Offer expires on September 30.
Free financing is available to those who qualify for window replacement in Marietta.
Benefits of Atlanta Replacement Windows With the huge savings from Tight Line Exteriors, now is the perfect time to replace those old, drafty windows with high quality Simonton Windows. Replacement windows offer several key benefits to homeowners, which we've outlined below:
Reduce Heat Loss – Would you believe that your windows are usually the source of the largest heat loss inside your home? In fact, the EPA suggests that old windows could account for up to 30% of your total energy consumption.
Cost Savings – As mentioned above, because replacement windows are so much more efficient than older windows, you can save significant money on your energy bill after installing new windows. Who doesn't want to save money each month?
Eliminate UV Damage – Are you tired of your carpet, wood flooring and furniture looking worn from damaging UV rays? If so, replacement windows should eliminate up to 99.5% of UV damage. This means that you can get rid of those throw rugs and let your hardwood floors and carpet shine as well as your beautiful furniture without fear of damaging UV rays.
Eliminate Sound Pollution – Old style single pane or even double pane windows can let significant amounts of noise from outside into your home. If you live near a road or have neighbors who love to throw pool parties, you should look into replacement windows.
Curb Appeal – Replacement windows give your home a finished look. They also tell others that you take care of your home and that you are committed to saving money and preserving the environment. Replacement windows also make a great selling point if you ever do decide to sell your home.
Tight Line Exteriors Your Full Service Exterior Contractor
Whether you are looking for window replacement, siding replacement lawrenceville, roofing, gutters or replacement doors, Tight Line Exteriors is ready and willing to handle any exterior job that you can send our way. We've been providing superior customer service in the Atlanta Metro area since 2003 and are committed to providing the best service at prices that our customers can afford. We also offer extremely attractive financing options for the majority of our exterior projects. Give us a call today at 770-509-2282 or Contact US to setup a free, no-obligation consultation. We look forward to working with you to transform your home into a place that you love.