Tightline Exteriors Is Your Siding Installation in Roswell, GA Solution
Jul 01, 2014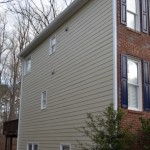 When it comes to siding installation in Roswell, GA, Tightline Exteriors has the experience to get the job done properly, efficiently, and professionally. A partnership with James Hardie has improved the company's product line and service. James Hardie siding is designed to high quality standards and allows customers to choose from many colors. It can therefore match the look of any house.
Tightline Exteriors offers only the best products available, and at the best price. The siding Tightline installs is not just good to look at, it has many benefits including longevity and energy efficiency. Exterior walls are fitted with Low-E housewrap to protect against water while lowering heating and cooling costs.
Perhaps the most innovative aspect on the product line is the selection of colors. A professional exterior designer consults with each client and an experienced designer can even come to an in-home consult to determine the best color. It might take a little patience, but once the job is done you can lower maintenance costs, increase resale value, and improve energy efficiency and savings.
With the company's experience in siding installation in Roswell GA, you can even reduce the impact your home has on the environment. Financing is available with 365 Days same as cash!