Durable Epoxy Floor Coating for your Alpharetta, GA, Home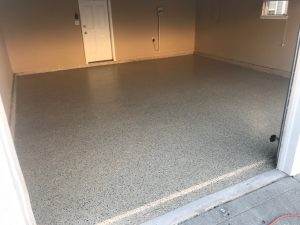 For a significant upgrade over your home's current flooring, look to Tight Line Exteriors and our high-quality epoxy floor coating. We offer speedy, flawless floor-coating services to homeowners in Alpharetta, installing materials from industry-leading manufacturer Penntek.
Exceptional Durability
Your home needs durable flooring in its high-traffic areas, and that's exactly what you get from Penntek. The epoxy floor coating installed by our skilled technicians is made to last, as it is able to withstand heavy and frequent impacts, strong chemicals, UV exposure, and general wear and tear. Not only that, but the material is slip-resistant, low maintenance, and easy to clean. With such durability and convenience, these flooring systems are suitable for both indoor and outdoor areas. You can upgrade your garage, basement, patio, or pool deck with our long-lasting floor coating.
Availability in a Variety of Colors
Our epoxy floor coating is available in different colors, including chip, metallic, quartz, and solid. Having different options to choose from can help you find the right look and style to complement the rest of your home no matter what room it's being installed in.
Installations in Just One Day
What sets Tight Line Exteriors apart from other remodeling companies is our one-day installation services for epoxy floor coating. Our installers are factory-trained by Penntek, meaning they have the knowledge and experience necessary to complete the job quickly and painlessly. Plus, once your flooring is installed, it only takes 24 hours to cure. That means you can walk on it within four hours, place furniture on it within 12, and drive on it in 24. And for added peace of mind, Penntek flooring comes with a 15-year guarantee.
Working with Tight Line Exteriors
Tight Line Exteriors has been serving homeowners in Alpharetta and surrounding areas with outstanding exterior remodeling services since 2004. We are an honest contractor dedicated to offering great products, installations, and services. Because of our commitment to our customers, we have earned and maintained an A+ rating from the Better Business Bureau.
For more information on how our epoxy floor coating can give a boost to your Alpharetta home, contact Tight Line Exteriors today to schedule a free consultation.