High-Quality Epoxy Floor Coating for Your Home in Marietta, GA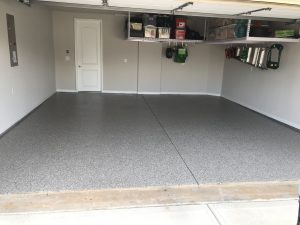 If you're tired of having dull concrete flooring in your Marietta, Georgia, home, turn to Tight Line Exteriors for top-of-the-line epoxy floor coating. Manufactured by industry leader Penntek and installed by our skilled technicians, this flooring system will transform the look of any space, whether it's your garage, basement, patio, or pool deck.
When you invest in epoxy floor coating, you can expect the strength and durability that your home needs for flooring in high traffic areas. It is able to withstand strong chemicals, frequent impact, and UV exposure without being damaged, which means you can expect little wear and tear on its smooth, like-new surface.
Epoxy Floor Coating's Unmatched Beauty
When you choose Tight Line Exteriors' epoxy floor coating from Penntek, you'll be able to choose from a variety of appealing color systems, such as:
Chip
Metallic
Quartz
Solid
Having different options available to you allows you to find the right style and color to suit your home. The best part? No matter which style you pick, it will have a texture and surface that decreases the possibility of slips and falls. Think of the texture as little grips to avoid slipping and sliding around! Such safety is especially helpful if your epoxy floor coating is being installed in a room that will be frequented by children.
Best of all, your new floor will maintain its brand-new look for years to come and remain very easy to clean, with little maintenance required.
Choosing Penntek's Epoxy Floor Coating with Tight Line Exteriors
Beyond our years of experience, many residents in the area come to Tight Line Exteriors for epoxy floor coating installation because of our flexibility. We can do the job in as little as one day, and you can walk, drive, and place heavy objects on your new floor within 24 hours of completion. And for added peace of mind, we back all of our work with a 15-year guarantee, so you know we have your back even after we've wrapped up the project installation.
We also promise our customers that they'll receive stellar customer service throughout the whole process. We pride ourselves on our integrity and strive to be seen as a respectable, honest contractor with high-quality service at a fair price. We always do right by our customers, which is why we have received back-to-back Best of Houzz awards and an A+ rating from the Better Business Bureau.
For more information on our epoxy floor coating services or to schedule a free consultation, contact Tight Line Exteriors today.