Installing Epoxy Floor Coating in One Day for Homeowners in Woodstock, GA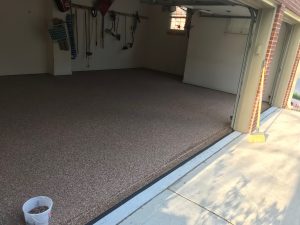 If you're tired of the floor at your Woodstock home looking dull, you can find an upgrade with Tight Line Exteriors. We are committed to offering top-notch products and services, which is why we install high-quality epoxy floor coating from Penntek, an industry leader.
This beautiful, durable flooring can be installed indoors or outdoors, meaning it can be suitable for your garage, basement, patio, and pool deck.
Finding a Complement for Your Home
Our epoxy floor coating from Penntek is available in a variety of options, including chip, metallic, quartz, and solid, which should help you find a look that works with your home. No matter the room your new flooring is installed in, you'll be able to find the right color scheme to match it.
Impressive Durability
The flooring in your home needs to hold up over time, and when you have our epoxy floor coating installed, you get an exceptionally durable system. It will hold up and maintain its like-new appearance for years on end, as it is able to withstand:
Heavy impact, including vehicle traffic
Chemical spills
UV exposure
General wear and tear
Our floor system is also designed to be slip-resistant, which makes it safe for areas that will be frequented by children. What's more, it's low maintenance and easy to clean.
One-Day Installations
When you choose epoxy floor coating from Tight Line Exteriors, you don't have to worry about a significant disruption to your schedule. We complete installations in just one day, helping you get everything back to normal very quickly. Even better, the room your new flooring is installed in can be used within 24 hours. That means you can walk, drive, and move heavy furniture on it the next day.
About Tight Line Exteriors
We are an exterior remodeling company that has been serving homeowners in Woodstock and surrounding areas since 2004. Our core values are centered on integrity, and we aim to be a respectable contractor that offers high-quality services at a fair price. Over the years, we have done that. Just look to our A+ rating with the Better Business Bureau.
To schedule a free consultation about having epoxy floor coating installed at your Woodstock home, contact Tight Line Exteriors today.