Installing Hardie's Industry-Leading Siding on Johns Creek, GA, Homes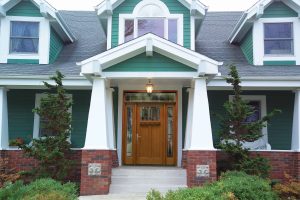 For increased curb appeal and improved durability at your Johns Creek home, partner with Tight Line Exteriors. We install James Hardie siding, one of the most popular and highest-rated products on the market, for homeowners who are tired of seeing their existing siding chip, crack, warp, and peel.
Why Hardie Siding?
There's a reason that James Hardie siding can be found on more than 8 million homes across North America. It simply provides a combination of beauty and durability that can't be matched, making it a practical choice for any home.
Beauty
Hardie siding comes in a variety of styles, so whether you're looking for vertical, lapboard, or shingle siding, you can trust that you'll find it with Tight Line Exteriors. Along with style versatility, it can be painted any color you want, which will help you find a look that suits the rest of your home's exterior. And with Hardie's ColorPlus® line, your paint color will last even longer, as it features 50% more coats than a typical paint job to keep your siding from cracking, peeling, and fading while maintaining a like-new appearance for years to come.
Durability
This low-maintenance fiber cement siding is exceptionally durable. It's non-combustible, moisture-resistant, and insect and pest repellant. Plus, it's specifically designed for hot, humid climates, so you can be sure that it'll protect your Georgia home effectively. You won't need to worry about warping, swelling, cracking, or splitting due to the elements, which makes your investment especially worthwhile.
Free Design Consultations
When you choose Hardie siding with Tight Line Exteriors, you're not just getting an outstanding product and flawless installation services. Before we even get to work on your home, we offer free design consultations to better understand what you want the completed project to look like. Before we meet, you'll receive a questionnaire to help us get a feel for your tastes and preferences. Then, during our two-hour consultation, we will make recommendations about styles, textures, and colors to help you find the best look for your home. We can even produce a 3-D model so that you can visualize what the finished project will look like.
Choosing Tight Line Exteriors
When Tight Line Exteriors installs your new siding, you'll receive a top-of-the-line product, excellent installation, and first-rate customer service. We are committed to always doing right by our customers, which is why we make sure our teams show up on time, keep the worksite clean, and communicate effectively. For proof of our dedication, look to our A+ rating from the Better Business Bureau.
For more information on having Hardie siding installed at your Johns Creek home, contact Tight Line Exteriors today.