Upgrade Your Kennesaw, GA, Home's Curb Appeal With Beautiful James Hardie Siding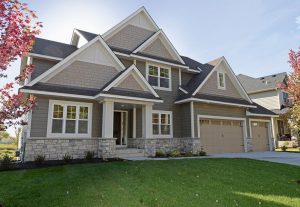 As one of the highest-rated products on the market, Hardie siding can transform even the dullest home exterior into a beautiful sight. For such an upgrade at your home in Kennesaw, Georgia, Tight Line Exteriors is your best bet. We have been serving homeowners with expert siding installations since 2004, becoming your trusted resource for not only siding but all exterior remodeling needs.
Hardie Siding Offers Great Beauty and Customizability
Most homeowners long for a big boost in curb appeal, and James Hardie's industry-leading fiber cement siding is the answer. There is a variety of styles for you to choose from, including vertical, lapboard, and shingle. And because your new siding can be painted any color, you can customize your home's look to suit the existing trim, roof, window, and door colors.
For enhanced beauty, we offer Hardie's ColorPlus® siding. The ColorPlus® product features 50% more coats than a typical paint job, with the coats being "baked on." Because of that, it won't crack or peel and its UV resistance means it won't fade, which allows for an outstanding appearance that will last a long time. Hardie's ColorPlus® siding comes in 29 vibrant colors.
The Unmatched Durability of Hardie Siding
Your home's siding isn't just about beauty. Durability is a key factor for siding, which is why with Hardie siding, you don't have to sacrifice durability for an appealing look. In fact, it's one of the most durable siding products on the market. You won't have to worry about warping, swelling, or splitting. Plus, it's non-combustible, moisture-resistant, and insect-repellant, making it an excellent investment for your home.
Our Reliability and Commitment to Exceptional Service
It's true that the look and performance of your Hardie siding will rely on it being properly installed. With Tight Line Exteriors, expect a flawless installation. We are a James Hardie preferred contractor, so you can trust our ability to effectively install your new siding. In addition to our reliable work, we are dedicated to providing the best customer service around. We are big on honest communication, and we work to be transparent throughout the whole process. For proof of our great reputation, just look to our A+ rating with the Better Business Bureau.
If you want more information about the Hardie siding we can install at your Kennesaw home, contact Tight Line Exteriors today.