Installing Beautiful Hardie Siding on Homes in Marietta, GA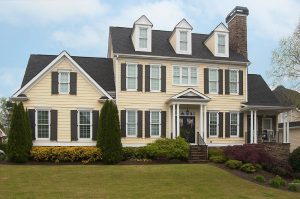 Having siding that is old, cracked, and faded will significantly detract from your home's curb appeal. But luckily for Marietta homeowners, that doesn't have to be a worry. When you look to Tight Line Exteriors, you'll find beautiful James Hardie siding options to give your home's aesthetic a serious boost.
With James Hardie's industry-leading fiber cement siding, you get an unmatched combination of attractiveness and durability. That's why it is one of the most popular and highest-rated products on the market.
The Beauty of Hardie Siding
Hardie siding is an excellent option if you're looking to heighten your home's curb appeal. Given that this siding is available in vertical, lapboard, and shingle styles, you're sure to find the look that best suits your home. For even more aesthetic options, Hardie fiber cement siding can be painted any color. Plus, with Hardie's ColorPlus® siding, you get 50% more coats than a typical job. The color you choose will be baked on, meaning it won't crack or fade over time. That helps your home keep a fresh, like-new look for years to come.
Our Free Design Consultations
Part of what sets us apart from other exterior remodelers is our design services. We offer free consultations to help you plan and visualize what your home will look like with its new siding. Ahead of the meeting, you'll get a questionnaire that you can fill out to help us get a feel for your tastes and preferences. Then, during the two-hour appointment, we'll give recommendations about colors, textures, and styles, as well as any other options that would make sense for your home's exterior. We even use "Hover" from Hardie to create 3-D models to help you better visualize the finished project.
The Durability of Hardie Siding
This particular brand of siding is designed especially for hot, humid climates, making it a practical choice for homeowners in Marietta and surrounding areas. Its durability is part of the reason that Hardie siding can be found on over 8 million homes across North America. In addition to your protecting your home from cracking, swelling, and warping, it is:
Non-combustible
Moisture resistant
Insect and pest repellant
Tight Line Exteriors' Customer Service
Tight Line Exteriors has been dedicated to integrity and excellent customer service since our 2004 founding. We are big on communication, and we make sure our teams show up on time, keep the worksite clean, and always do right by you. That commitment is a big reason why we have an A+ rating with the Better Business Bureau.
For more information on having Hardie siding installed on your Marietta home, contact Tight Line Exteriors today.