Transform Your Sandy Springs, GA, Home With James Hardie Siding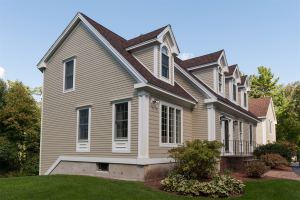 Tight Line Exteriors can give your Sandy Springs home a huge boost in curb appeal with the installation of James Hardie siding. This fiber cement siding, which is one of the most popular and highest-rated on the market, offers a combination of durability and visual appeal that is hard to beat. We have been providing exterior remodeling solutions for homeowners in Georgia since 2004, building up trust and a reputation for great products and outstanding service.
Features and Benefits of Hardie Siding
Tight Line Exteriors aims to be a trusted resource for renovations by installing products properly so that homeowners are afforded the comfort of knowing their investment will last. When it comes to siding, we accomplish that with Hardie siding. Because when you choose siding from James Hardie, you get:
Durability – When you have Hardie siding installed at your home, you can rest assured knowing that your siding will effectively hold up against the elements. It won't warp, swell, crack, or split over time. Plus, it's non-combustible, moisture-resistant, and insect-repellant. With all of these features, your siding will maintain its great look and performance for years to come.
Beauty – Our Hardie siding is available in different styles and finishes, and it can be painted any color. The standard siding looks appealing on its own, but we also offer James Hardie's ColorPlus® line. The ColorPlus® siding is available in 29 different colors, with 50% more coats of paint than typical siding. Because the paint is "baked on" and the siding is UV-resistant, its vibrant color won't fade.
Energy efficiency – Hardie siding is designed specifically for hot, humid climates. The fiber cement siding is very energy efficient, which protects your home from uncomfortable temperatures while saving energy. And when you save energy, it can lead to savings on monthly energy bills.
Tight Line Exteriors' Award-Winning Service
When you look to Tight Line Exteriors for a Hardie siding installation or any other home renovation, expect not only excellent work but also exceptional service. Our dedication to great communication – combined with our honesty and transparency – is a large reason for our A+ rating with the Better Business Bureau.
For more information on having Hardie siding installed at your Sandy Springs home, contact Tight Line Exteriors today.