Affordable Sandy Springs Roofer at Your Service!
Repair, replace, or install new roofing that lasts with our seasoned pros on the job.
Sandy Springs Roofer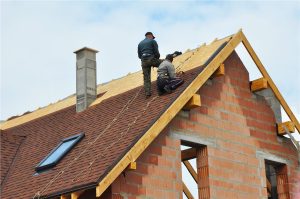 The roof of your Sandy Springs home is the most expensive and important part of your property. It keeps out the weather and enhances curb appeal. To ensure that your home continues looking and functioning as beautifully as possible, make sure to use the best roofers in the business. Tight Line Exteriors is committed to the Four C's of quality and service. Our roofer will work closely with you to find the best solutions for any roofing restoration and repairs you may require. As a premier Sandy Springs roofing company, we frequently offer customers the following services:
Roof Replacement
Roof Shingles
Metal Roofing
Roof Replacement Services That Go Above & Beyond
Since 2004, we have provided complete Sandy Springs replacement roof services. Our team will come to your home during an initial consultation to inspect your roof. If a replacement is required, we'll assist you with selecting a new roof style and shingle materials. When finished, your roof will be covered by our in-house labor guarantee and the manufacturer's warranties on products we use.
Asphalt & Wood Roof Shingles
Speaking of shingle materials, we can also provide attractive shake shingles or durable asphalt shingles for your home. Shake shingles offer a classic look that fits in well with traditional Southern style. Yet, asphalt is durable enough to withstand most high winds, rain, and falling tree limbs. Whatever you choose, our seasoned roofers will install your shingles promptly and efficiently.
Strong & Reliable Metal Roofing
Those who prefer something a little more resilient may want to pick metal roofing for their Sandy Springs home. Metal roofs last for decades and are extremely resistant to heavy impacts, fire, and wind. We also offer a selection of colors and styles so you can pick the ideal look for your home.
Ask Our Roofer About a Free Price Estimate
Work with a Sandy Springs roofing company that helps you make the most of a small budget. Tight Line Exterior uses experienced roofers and provides superior warranties to protect your investment. Find out more about our roofing services by calling one of our friendly representatives or filling out our online form. We'll be happy to set you up with a consultation for a free, no-obligation price estimate.