The Trusted Choice for Alpharetta Siding and More
Since 2004, we've expertly installed durable, top-rated siding for impressive, long-lasting performance.
Alpharetta Replacement Siding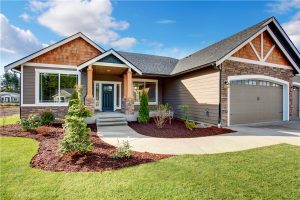 The siding on your home is about more than just curb appeal. It also protects your home from moisture damage, wind, and, can even help to shore up your home's energy efficiency. The quality of Alpharetta replacement siding varies, and it's important to choose a quality product that will provide the dependable performance and durability you expect.
Since 2004, Tight Line Exteriors has been a trusted choice for siding and other home improvements. We only install high-performance siding from top manufacturers, so you can be sure you're getting a quality product. We offer:
Vinyl Siding
Insulated Vinyl Siding
Fiber Cement Siding
Gutters
Affordable Vinyl Siding
Vinyl siding continues to be a popular option because of its affordability—but today's vinyl siding is not the same as the siding of 20 or 30 years ago. Great strides have been made in terms of design and durability, so you can count on years of impressive performance.
Save Money with Insulated Vinyl Siding
Your home should be a comfortable retreat from the Georgia heat, and our insulated vinyl siding makes it easier to maintain an optimal temperature. An enhanced R-value reduces heat transfer, so more heat stays in your home during the winter and out of your home during the summer.
Durable Fiber Cement Siding
Georgia is hot and humid, and fiber cement siding is ideal in this type of climate. It's one of the most durable siding options on the market. While it comes with a higher initial cost, if offers a high return on investment. The low-maintenance siding is resistant to fire, wind, insects, and rain, so it will continue to offer impressive performance for many years longer than other types of siding.
Protect Your Home with Dependable Gutters
Even though most homeowners don't think about them much, gutters are one of the most important features of your home's exterior. They divert water away from your foundation, providing protection from erosion and moisture damage to siding and fascia. Our top-rated aluminum gutters come with a lifetime, no-clog guarantee. Ask about our gutter guards as well, which will help your gutters offer peak performance with minimal maintenance.
Learn More about Our Alpharetta Replacement Siding
You deserve the best for your home, and that's what we provide. Our commitment to quality has earned us A+ accreditation with the Better Business Bureau and our place as a top choice for Atlanta siding and other exterior renovations. Call Tight Line Exteriors today for more information, or fill out our brief, online form now to schedule a free, no-obligation estimate.