Beautiful, Durable Siding for Your Buckhead Home
Since 2004, we've provided top-rated products and expert installation for long-lasting, low-maintenance performance.
Buckhead Replacement Siding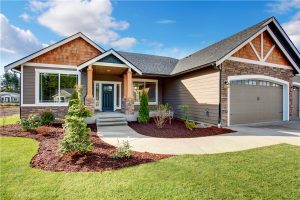 Your beautiful Buckhead home is one of your biggest investments. Protect it from wind and rain with top-rated, expertly installed Buckhead replacement siding. Since 2004, Tight Line Exteriors has provided exceptional services throughout the area. Using only high-performance products, we help our customers add value and curb appeal to their homes while also preventing moisture issues and other damage. Our long-standing A+ accreditation from the Better Business Bureau is a testament to our commitment to go the extra mile to earn 100% customer satisfaction. We offer many quality products including:
Vinyl Siding
Insulated Vinyl Siding
Fiber Cement Siding
Gutters
Stylish, Cost-Effective Vinyl Siding
The vinyl siding from a few decades ago would crack, fade, and warp. Today's products are much more durable, and many homeowners are opting for this affordable siding. Available in dozens of colors and several profiles, it's easy to find a vinyl siding option that will complement the architecture of your home. During a free consultation, our designers will help you choose the siding that will look great on your home.
Buckhead Insulated Vinyl Siding
Smart homeowners are always looking for ways to save money on their heating and cooling bills—and our insulated vinyl siding can help with that. Wrap your home in a blanket of insulation with an impressive R-value that will reduce heat transfer and make it easier to maintain a comfortable temperature in your Buckhead home.
High-Performance Fiber Cement Siding
Fiber cement siding is ideal for hot and humid climates, and it offers many impressive features that make it a smart investment in your Buckhead home. The higher initial cost is balanced by the fact that this is one of the most durable types of siding on the market, and it will outlast many other options. Enjoy the gorgeous look of woodgrain in an extremely low-maintenance siding product.
Buckhead Gutters and Gutter Guards
New gutters aren't the most exciting home update, but they are one of the most important. Your water management system is vital to protecting your home's foundation from erosion and your siding and fascia from water damage. Our aluminum gutters are available in 21 colors, so you can find one that will complement the look of your home's exterior while also providing impressive, low-maintenance performance.
Grab a Precise Quote Today from Our Atlanta Siding Company
Contact our Atlanta siding company to learn more about our top-rated siding products and to schedule a free, no-obligation estimate. Call Tight Line Exteriors today, or fill out our brief online form now to get started.